TEXSAR Hires Inaugural Development Officer
After an exhaustiv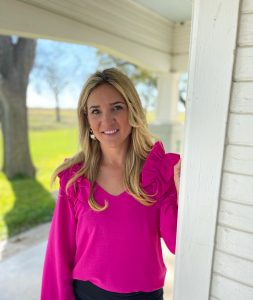 e national search, TEXSAR has officially brought on board our inaugural Development Officer, Whitney Huddleston. We are very excited to have Whitney joining the TEXSAR team to help keep up with our growth and continue to solidify our organization in the response arena. Whitney comes to TEXSAR with a broad background in fundraising, events, leadership, and TV meteorology. A fantastic mix for TEXSAR.
Whitney will lead fundraising efforts and will use her experiences to help TEXSAR: grow its donor base, work on fundraising events, work on planned gifts, campaigns, backend fundraising data infrastructure, fine-tune our fundraising strategy, and much more. Her efforts will allow TEXSAR to take on more missions, serve more people, acquire the tools and resources we need to successfully uphold our mission and supply the organization with what it needs.
Welcome to the team, Whitney!
Whitney has always had a passion for rallying for causes that she is passionate about. Whitney hails from Central Texas and has an educational background in Meteorology. After attending school at Texas Tech University, she spent several years working in the TV industry as a Meteorologist and Anchor in Lubbock, Texas. Because of her background in weather, Whitney has been on-site during and after multiple disasters here in the state of Texas including the Wimberley Memorial Day flood and several major Hurricanes. She has seen TEXSAR at work and is excited about the opportunity to fundraise for an organization that she truly believes in.
Over the past decade, she has worked for her alma mater Texas Tech and both volunteered and worked for several nonprofit organizations in the field of fundraising. Most recently, Whitney was the Regional Director for Rocky Mountain Elk Foundation. In her free time, she chases her twin boys around, runs marathons, and goes fly fishing.