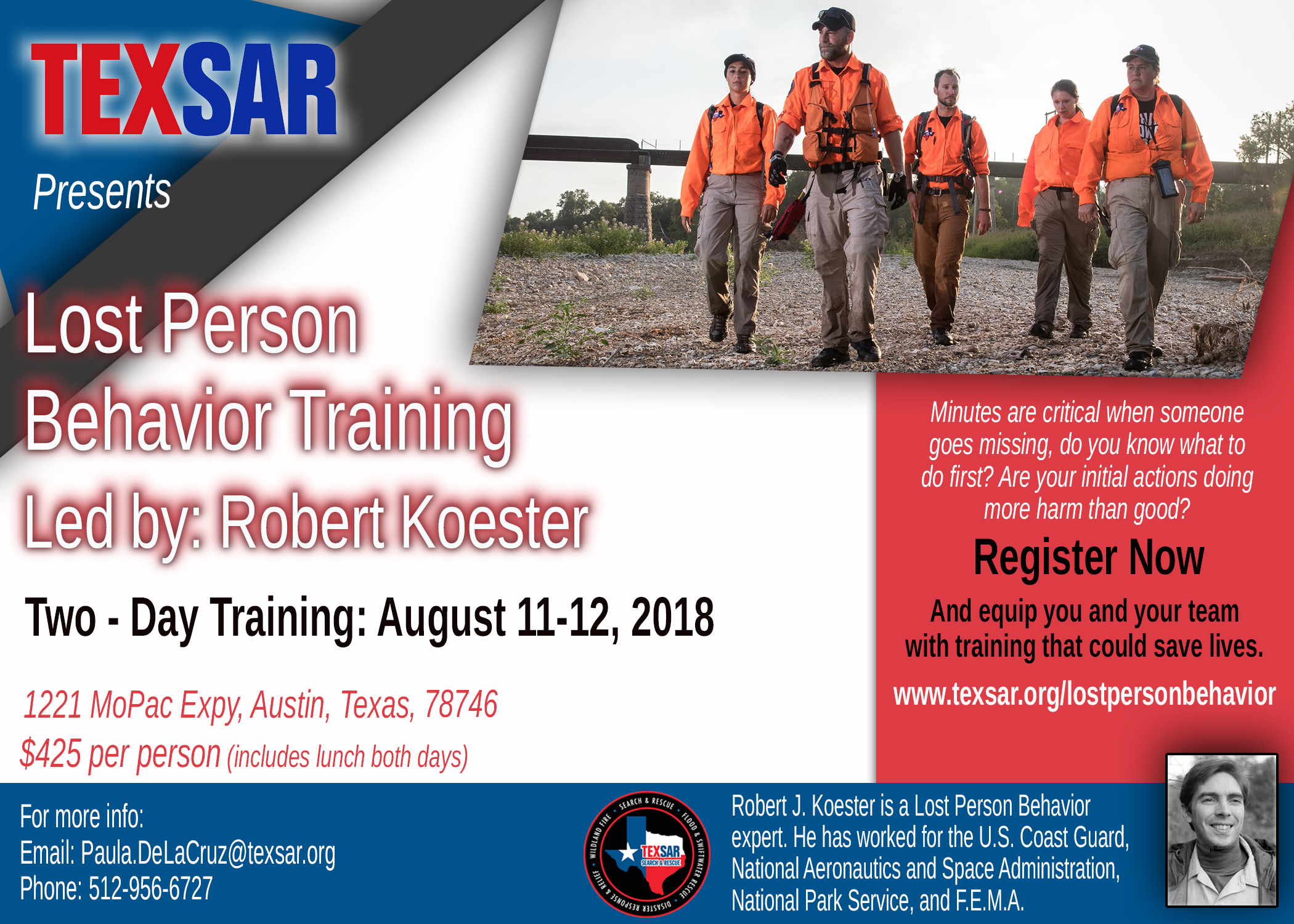 TEXSAR invites you to the Lost Person Behavior Training led by Robert Koester. The training will be held August 11th and 12th in Austin, TX. The training is $425 per participant.
Robert J. Koester first joined the Appalachian Search & Rescue Conference in 1981 and since then has participated in hundreds of searches. He holds a Master of Science degree in biology (neurobiology) from the University of Virginia. He is a research associate at Kingston University in London. His contributions to search and rescue include seminal research on lost person behavior (with emphasis on dementia) and the International Search and Rescue Incident Database (ISRID). A Type 1 incident commander, instructor for the Virginia Department of Emergency Management, and past president of the Virginia Search and Rescue Council (15 years), Robert has also worked for the United States Coast Guard, National Aeronautics and Space Administration, National Park Service, and Federal Emergency Management Agency. Author of numerous books and articles on search and rescue. He has presented in Aruba, Australia, Canada, Iceland, Ireland, New Zealand, the United Kingdom, and throughout the United States.
The training will cover topics such as:
The latest search and rescue incident statistics from the

International Search & Rescue Incident Database (ISRID)

, which contains over 50,000 SAR incidents;

Detailed behavioral profiles that give insight into what drives the basic behaviors of lost people

Statistical information; find location, scenario analysis, mobility time, survivability, elevation changes, track offset, dispersion angles, plus classic statistics such as distance from the initial planning point

The ability to pinpoint the most likely areas to search, then determine initial tasks quickly using reflex tasking, the bike wheel model, and quick consensus
Please contact Paula.DeLaCruz@texsar.org with questions or for more information.
Thank you to our friends at Keller Williams in Austin for hosting this event.