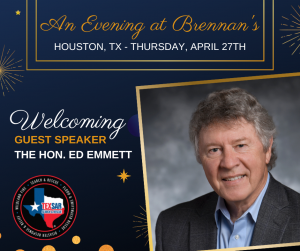 Edward M. Emmett is a Fellow in Energy and Transportation at Rice University's Baker Institute
for Public Policy. As a professor in the practice, Emmett has taught classes in transportation
economics and policy as well as social policy. In addition, Emmett is a Distinguished Senior
Fellow within Northeastern University's Global Resilience Institute and a Visiting Fellow at the Institute of Strategic Risk Management.
Since 2005, Emmett is the owner of The Emmett Company, a consulting firm advising public andprivate entities in transportation policy, emergency management, international marketing and strategic development.
From 2007 until 2019, Emmett served as County Judge of Harris County, Texas. As County Judge,
Emmett was the Director of Homeland Security and Emergency Management, a role which
established him as a national leader in emergency response and community resilience.
A member of the Texas House of Representatives from 1979 to 1987, Judge Emmett was chairman
of the Committee on Energy, a member of the Transportation Committee, and represented the state
on numerous national committees relating to energy and transportation policy.
In 1989, President George H. W. Bush nominated Emmett as a Commissioner at the Interstate
Commerce Commission. After being confirmed unanimously by the United States Senate, Judge
Emmett served on the commission for three years.
Emmett has received international recognition for his work in transportation and logistics policy. He
was named Transportation Person of the Year by Transportation Clubs International and one of the
Top 20 Logistics Professionals by Logistics Forum.
Emmett attended Bellaire High School. He graduated from Rice University in 1971 with a Bachelor
of Arts degree in Economics and from the University of Texas at Austin in 1974 with a Master of
Public Affairs degree.
Emmett has received numerous awards and honors, including Distinguished Alumnus of Rice
University, the Distinguished Public Service Award from the Lyndon B. Johnson School of Public
Affairs, and the Presidential Call to Service Award.
Emmett and his wife, Gwen, have been married for 47 years and have four children and 13
grandchildren.