TEXSAR is a 501(c)(3) nonprofit first responder organization. TEXSAR deploys ONLY at the request of law enforcement, fire departments, and emergency management agencies. TEXSAR provides specialized services such as ground search and rescue; flood and swiftwater rescue; K9 search, rescue, and recovery; disaster relief services; aerial search; UAV support; and dive team operations. TEXSAR is fully self-sufficient, including incident management team (IMT) capabilities, logistics and communications. TEXSAR's services are free to requesting agencies and are staffed by volunteers who are trained professionals in their fields.
If you are requesting agency and your county or community
is in need of support please contact our activation line:
512-956-6727
---
Support TEXSAR's Mission
Text TEXSAR to 44-321
OR

---
WHERE IS TEXSAR NOW?
As of 8/25 10AM – TEXSAR is deploying all available assets and volunteers towards the Gulf Coast. We will start in Galveston County and prepare to deploy from there.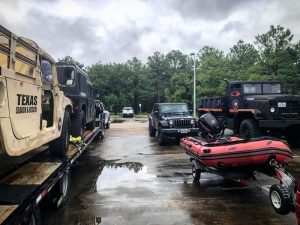 Check back for current updates and reports.
TEXSAR is always accepting new applications and volunteers however, if you apply now you will not be eligible to deploy for this incident. All TEXSAR members(volunteers) must be vetted and trained prior to deployment. We appreciate your understanding, since we respond to calls from governmental agencies, we operate under their authority.