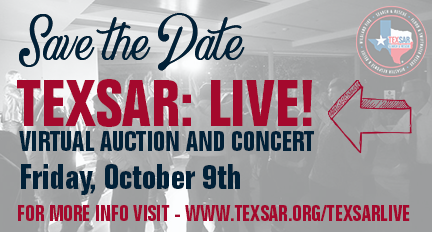 TEXSAR: LIVE! is a virtual concert and auction fundraiser. 2020 has brought it's challenges for everyone. COVID-19 has impacted TEXSAR in a number of ways especially with our fundraising efforts. Out of an abundance of caution we made the difficult decision to cancel our usual annual fundraisers. We are mixing things up, getting creative, and going VIRTUAL! The event will kick off on October 5th with an online silent auction and wrap Friday October 9th with a two-hour interactive virtual concert and TEXSAR experience.
TEXSAR is looking for generous supporters to donate items for the silent auction or sponsor this event in efforts to raise funds to support our mission of serving the communities of Texas.
Click Here for Sponsorship Information
Click Here to Sponsor TEXSAR: LIVE!
EVENT DETAILS
SILENT AUCTION: TEXSAR Silent Auction site will be revealed soon. The auction will run from October 5th and wrap up the evening of October 9th. Included in this year's auction we have received a generous donation from Shiner Beers. TEXSAR will be auctioning off a Private Backyard BBQ Concert with Texas Country Music Artist, Wade Bowen!
VIRTUAL CONCERT: Follow the ZOOM link below and join us FRIDAY, OCTOBER 9th at 7:30pm.
Three musical artists will play throughout the evening on a live stream while we share the story of TEXSAR. There will be some fun and games intertwined in the evening with chances to win great prizes and there will be plenty of opportunities to give to TEXSAR!
Save This Zoom Link: https://zoom.us/j/96695216361?pwd=a2RVYldGelRDZzN6c2k5dG8rbU9LUT09
Artist Bios
Roger Blevins
As the frontman and songwriter for the band Mingo Fishtrap, Roger Blevins Jr. has shared his songs with music lovers across the globe. Championing the cause for soulful Americana, he has soaked up the flavors, stories and landscapes of the group's travels. A Mississippi native who has settled in Texas, Blevins comes by music honestly, following in the footsteps of his Louisiana bassist father and a grandmother who taught him hymns sitting side by side on the organ bench. After attending the University of North Texas' prestigious College of Music and forming Mingo Fishtrap in a cramped campus dorm room, it wasn't long before Austin became home base and the band was out on the road. Mingo's critically-acclaimed release, On Time landed them on the Americana charts as one of the 100 most played albums of the year. "[Blevins] evokes all the great soul shouters but replicates none of them and, like the old masters, knows how to lift a good melody, not overtake it."
Bonnie Whitmore
When the Austin-American Statesman's music critic Peter Blackstock received an advance copy of Last Will and Testament, Whitmore's latest record, he named her Austin360's June Artist of the Month. "Whitmore still enjoys the supporting role," he notes, "but these days, she has too much to say to stay in the shadows.
LZ Love
LZ Love is a native Chicago singer-songwriter/actress who has had a rich career of performing gospel, blues, and dance music with chart-topping dance singles in the UK. She has been fortunate to record and tour with the likes of James Brown, Clarence Clemons, Michael Franti & Spearhead, Sylvester, Carolyn Wonderland, and the Alabama Shakes. Other professional accomplishments include scoring a track on Jennifer Lopez's TV series: Shades Of Blue. Love was also a resident in Austin, Texas for 10 years and sang the National Anthem for the San Antonio Spurs playoff game. In 2007 Mayor Will Wynn presented her with the key to the city for November the 29th 2007.