Onion Creek Search
On Friday, November 1, 2013 TEXSAR members participated in multi-agency search and recovery effort along a flooded Onion Creek in Southeast Travis County.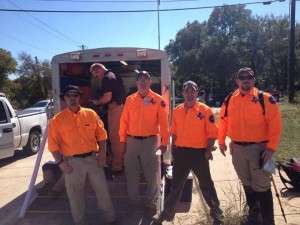 With crews in the air and on the ground, searchers from TEXSAR, the Travis County Sheriff's Office, Game Wardens, Travis County Search and Rescue, APD Search and Rescue, and Alamo Area SAR were able to traverse the treacherous flood zone to locate and recover Josefina Rodriguez and her son Jay Rodriguez ¾ of a mile from where their car was found after it was swept from the road.
TEXSAR would like to thank all agencies involved in this effort and extend our deepest sympathies to the Rodriguez family.
Media Coverage:
http://www.kxan.com/news/local/austin/crew-search-for-missing-woman-and-baby
http://www.kvue.com/video/featured-videos/2-missing-after-Central-Texas-floods-230201391.html
http://www.myfoxaustin.com/story/23851778/woman-and-8-month-old-missing-near-onion-creek
http://www.keyetv.com/news/features/top-stories/stories/woman-child-missing-onion-creek-flooding-14155.shtml
http://www.statesman.com/news/news/crime-law/official-mom-baby-missing-after-floods/nbfGL/