TEXSAR Announces New Medical Director
Over the years, Doctor Jorgensen has led TEXSAR to new frontiers in the way we operate medically in the field. Through his leadership we have been able to implement a myriad of tools and processes. As of April 1st, Doctor Jorgensen has stepped down as TEXSAR's Medical Director. Dr. Jorgensen isn't going far though, as he will still remain a member of TEXSAR and hopefully get back in the field, where he loves to be. Dr. Jorgensen, we wish you the best and thank you for your service. Both as a member of TEXSAR and in your profession.
TEXSAR has appointed a new Medical Director, Doctor Luke Husby from UT Health Science Center San Antonio. Dr. Husby brings a plethora of field experience, educational experience and drive that will truly fit well with TEXSAR. Dr. Husby currently serves as a Physician at the University Hospital and as an Assistant Professor of Emergency Medicine and Director of Education and Research in Wilderness Medicine.
We appreciate Dr. Jorgensen for his leadership and expertise as well as Dr. Husby for taking on the challenge of bringing TEXSAR to the next level.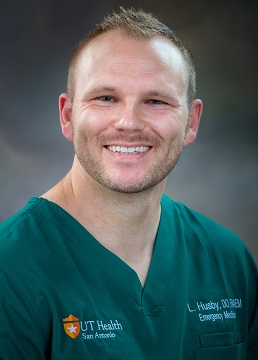 Dr. Luke Husby, DO, FAAEM, FACEP, FAWM, DTMH
Physician, University Hospital, San Antonio, Texas; Assistant Professor of Emergency Medicine, Department of Emergency Medicine, Long School of Medicine University of Texas Health San Antonio.
Dr. Husby is a practicing emergency medicine physician currently at University Hospital participating in resident education at University's level 1 adult and pediatric trauma center. While he attended Texas A&M University for his undergraduate degree in biomedical sciences he worked as an NREMT-B and CPR instructor. This was immediately followed by his medical degree from the University of North Texas Health Science Center. Afterwards he completed his emergency medicine residency at Palmetto Health in South Carolina jumping directly into community work in Dallas.
While working locally he continued global health education, training and volunteering internationally predominately in sub-Saharan Africa. Drawn to further global health and austere medicine he returned to training completing a fellowship in global health at UTHSA. During his fellowship at UTHSA he completed his fellowship in wilderness medicine through the Wilderness Medical Society as well as completing his Diploma in Tropical Medicine and Hygiene from the Royal College of Physicians (United Kingdom) after training received through Glasgow University. He is honored to work as the Director of Wilderness and Survival Medicine Education at UTHSA through the Department of Emergency Medicine. Dr. Husby continues to pursue interests in austere healthcare particularly in the international and domestic wilderness.