Carine and Cesar Chalfoun First Responders Fund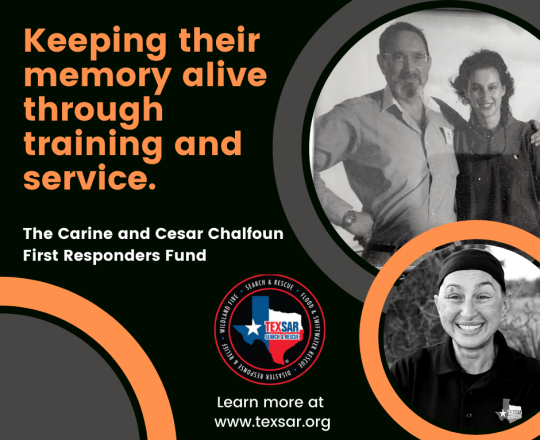 Early in 2020, TEXSAR (Texas Search and Rescue) had to send an unexpected farewell to TEXSAR member Carine Chalfoun who passed away February 18th, 2020. A few days after we lost Carine, her dear father passed away leaving two very empty voids in the hearts of their beloved family members and friends.
To keep their memories alive the Chalfoun Family has begun the Carine and Cesar Chalfoun First Responders Fund which will award scholarships to deserving and dedicated TEXSAR members, up to $750. These funds will cover the cost of personal protective equipment and/or additional training necessary to serve. Public service, education, and training were very important to Carine and her father, a perfect way to honor their memory.
August 8th would have been Carine's 52nd birthday, she would have shied away from this kind of spotlight, but she would be so honored to know that her memory will be alive in those who continue to train and serve their communities. Carine, we miss you everyday.
If you wish to contribute to the scholarship fund in honor of Carine and Cesar, donations can be made below. You can also donate through TEXSAR's website:
www.texsar.org/donate
Please indicate in the notes section this donation is for the scholarship. Checks can be mailed to P.O. Box 171258, Austin, TX 78717. All donations to TEXSAR's website and mailed checks are tax deductible. If you have any questions, please contact TEXSAR, 512-956-6727.
Thank you for supporting TEXSAR and the Chalfoun family.
From the Chalfoun Family:
"We were so very proud of Carine's early calling for volunteer work and service. Her goal in life has always been to create a safe environment for everyone.
We are honored that the Carine and Cesar First Responders Fund will pass on the torch to new generations of first responders furthering the wonderful work of TEXSAR. It was truly a blessing that Carine was a member of the TEXSAR family!"
As she would always sign off: "BE SAFE!"