Governor's Volunteer Awards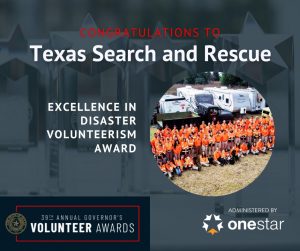 April 20th, TEXSAR was honored to receive the 2022 Governor's Volunteer Award for Excellence in Disaster Volunteerism at the Governor's Mansion in Austin, TX. These awards were presented by OneStar and the Office of the Governor. It was an honor to meet Texas First Lady Cecilia Abbott. Thank you for supporting our team and volunteerism in Texas. A special thanks to State Representative Carrie Issac (Wimberley, TX) for stopping by to show your support for TEXSAR.
Most importantly, thank you to the hundreds of volunteers who have donned the orange TEXSAR uniform over the last 19 years. Thank you for your compassion to help others, willingness to train, and grit to deploy at a moment's notice. You are what makes TEXSAR great – you deserve this.
To recieve this award, TEXSAR President and CEO, Justin McInnis was joined by: Director of Communications, Shannon Smith; volunteer, board member, and founding member,
Shawn Hohnstreiter; volunteer and 2023 Chairman of the Board, Andrew Tull, volunteer and 2022 Chairman of the Board, Matt Woodruff; and volunteer and 2022 Vice Chairman of the Board, Justen Noakes.
Thank you to our donors and supporters who continue to cheer us along and to the requesting agencies who trust our team to support your efforts.
Here's to Texans Helping Texans!