2021 TEXSAR's Trek Across Texas – April 2021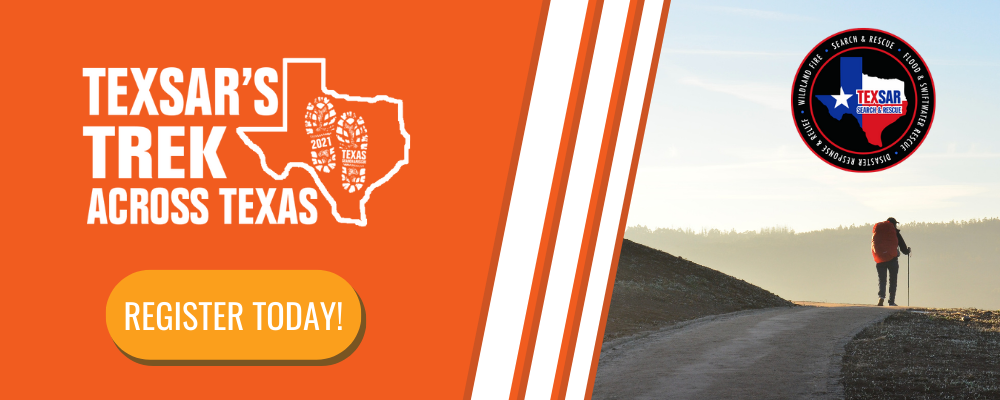 ---
TEXSAR's Trek Across Texas Challenge is a virtual, month-long physical challenge fundraiser. Registration is $35 ($45 for late registration), and participants can choose one of our courses based on distance (10 mi., 30 mi., 50 mi., 100 mi., or 150 mi.) to complete within the month by either walking or running that distance. If you'd like to participate by doing a different activity, we also have an Off-Road Trek category for all non-walking/running activities such as biking, swimming, kayaking, etc. Crawling is allowed, but 5.11 pants are expensive.
This challenge is perfect for anyone who:
WANTS TO ESTABLISH EXERCISE AS A HABIT: It takes a month to form a new habit. If you are having trouble making physical fitness a priority or struggle with a lack of accountability for an active lifestyle, this is your solution. Your Division Lead will thank you.
MISSES THE SENSE OF COMMUNITY: Running out of answers to that "how's COVID going for you?" conversation? Invite your friends/family to join you and other challengers in this huge group effort to be fit and raise money for your favorite Search and Rescue team. Share photos, status updates, and words of encouragement. Bragging is also encouraged.
LOVES TO COMPETE: i.e. any given TEXSAR member. There is a lot to compete for in this challenge: money raised, miles run, and completion time. Digital leadership boards give you real-time updates on the status of fellow participants so you know exactly how to get a leg up on the competition. "It's better to live one day as a lion than 100 as a sheep."
And most importantly…LOVES TEXSAR! All profits from this fundraiser go to TEXSAR. In addition to registration fees, any donations you solicit through your individual fundraising page helps our organization to do what it does best- help Texans in need.
These are the courses from which you can choose one (note: you don't need to actually follow these routes, they just represent the distance and help you visualize how far you've traveled across our state!)
Dallas to Irving (10 miles)
Houston to The Woodlands (30 miles)
San Marcos to San Antonio (50 miles)
Austin to Waco (100 miles)
Fort Worth to Abilene (150 miles)
Off-Road Trek (any non-walk/run activity)
What's new from last year?
150 MILE CATEGORY: Instead of stopping at 100 miles, we've added a 150 miles option for all the go-getters out there.
OFF-ROAD TREK CATEGORY: Our new Off-Road Trek category is for anyone who doesn't want to limit themselves to walking or running but still wants to join in on the fun with the rest of the team. We're looking forward to seeing all the creative ways that our TEXSAR members choose to trek!
NEW FUNDRAISING PLATFORM: We're using a new platform called Reason2Race to host our individual fundraisers, and it has some neat features. Check it out here!
PRIZES: We have some exciting new prizes in the works that we know you'll love. We'll post some sneak peeks down the road.
SHIRT: Our shirt this year will feature the race logo so you can continue to grow your arsenal of race shirts. We know you've got one!
Details
Early registration will run from 8:00am on March 1st to 11:59pm on March 31st for $35. Included with each registration is a t-shirt, a few freebies, and a digital bib. Physical items will be mailed to you and arrive within the first week of the race if you register by March 15th, and you will also be guaranteed your preferred shirt size. Registration will be open until the end of the challenge on April 30th; however, the price of registration will increase to $45 after March 31st. Those who register after March 20th may not receive their registration package until after the first week of April. Our Referral Rewards program gives you a discount when you get friends/family to sign up using your link, so invite anyone you think may be interested!
The challenge period will begin on April 1st and end at 11:59pm on April 30th. Participants upload their time and distance progress to the virtual race platform, allowing them to compete with fellow challengers. Look forward to weekly wrap-ups on the Challenge Updates page as well as the official Trek Across Texas Facebook Group, and compete against each other to see who can top the leaderboard for their category! This is your chance to show off your athletic prowess by rising in the rankings above your teammates. The top challengers within each sub-category that meet their course distance goal in the shortest amount of time will get a prize pack. If you aren't living on the edge, you're taking up way too much space.
Fundraising
If you'd like to help TEXSAR in a BIG WAY, at NO EXTRA COST to you, listen up! The best way you can support TEXSAR is to set up your own individual fundraising page here! This is a page you can share with friends and family via email/text/social media post, and tracks the donations that you as an individual are able to raise for TEXSAR. We've got extra special prizes for those who reach certain milestones or finish at the top of our fundraising leaderboard. This part of the race fundraiser is where you can really make a difference, so we encourage each and every participant to create a page and give it a go!
We've made it as easy as possible for you to do set it up upon registration and start collecting donations. There's no fundraising minimum, but we encourage you to set a high goal (like $1,000). You have nothing to lose and so much to gain!
Register for the event at TEXSAR's 2021 Trek Across Texas race page.
Craft your story on a personalized donation page by visiting the TEXSAR Reason2Race page and clicking the blue Join Team button.
Share your story with family and friends!
Getting Social
Throughout your journey, we'd love to see your in-action photos and status updates. Post them in the Facebook group and/or tag us in your social media posts at @texsar on Facebook and Instagram, or @texsar1 on Twitter. Use the hashtags listed below! Be goofy, we expect it from many of you.
#TEXSARTrekAcrossTX
#TEXSAR
#TexansHelpingTexans
#TexasSearchAndRescue
#WeStandTogether
No social media? No problem! Just send any pictures and comments to us at ashley.abbott@texsar.org and we can post them for you so you can join the fun.
We will be offering a prize pack for the top photo in each of these categories:
(1) Most Picturesque Photo
(1) Craziest Photo
(1) Social Media Maven
(4) Social Challenge (one per week of the challenge period)
Health and COVID-19
Based on government guidance, and at the recommendation of TEXSAR President Justin McInnis and TEXSAR Medical Director Dr. Luke Husby, the guidelines for any return to or engagement in TEXSAR sponsored in-person activities (deployment, training, meeting, etc) are at a minimum to:
Wear face masks appropriately
Maintain a minimum of 6 feet of distance whenever possible between people
Maintain proper hygienic practices (handwashing, cleaning of materials in between uses among personnel)
Self-screen before the event (see attached)
Temperature check at home before the event and if possible upon arrival to event
No TEXSAR sponsored mass gatherings (>100 people)
It is recommended that you see a physician prior to beginning an exercise program unless you have been exercising regularly.
Sponsors
Interested in sponsoring the challenge? Contact Shannon Smith at shannon.smith@texsar.org or by phone at 512-956-6727
TEXSAR's Trek Across Texas 2020 was a HUGE Success!
Thank you to everyone that made this possible!

Congratulations to our top runners, top fundraisers, and award winners!