TEXSAR Deploys to the 2013 Kemah Triathlon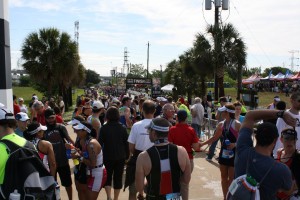 TEXSAR's Incident Management Team and Search and Rescue Team – together with Galveston County Office of Emergency Management (OEM), Kemah Police Department and a number of other agencies – successfully provided security for the 2013 Kemah Triathlon. In light of the recent tragedy at the Boston Marathon, Galveston County put a spotlight on public security, and TEXSAR used the opportunity to shine.
"This event was an example of the awesome relationship between TEXSAR and the County of Galveston. TEXSAR did a great job.  Words can't describe how pleased I am," said David Popoff, Emergency Management Coordinator for the Galveston County OEM.
Days before the triathlon, the Galveston County OEM called up TEXSAR.  TEXSAR quickly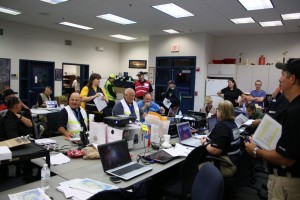 responded, ready to deploy 11 members.  The joint Galveston County-TEXSAR IMT was tasked with providing for the safety of all participants and the public at all times; searching and securing the designated area; and managing a coordinated interagency response effort that reflects the makeup of Unified Command.  The objectives were completed, and the triathlon proceeded without any major incidents.
The triathlon was a very positive experience for Galveston County, TEXSAR and all other agencies to integrate their resources.  More than 150 people participated in providing safety for the event, including over 60 law enforcement officers and 50 volunteers.
Participating agencies in the 2013 Kemah Triathlon Operation included: The Galveston County Office of Emergency Agency, The City of Kemah, Kemah Police Department, Kemah Volunteer Fire Department, Clear Lakes Emergency Medical Services, Texas City Police Department, Galveston County Road and Bridge, Galveston County Parks Department, Galveston County CERT, Galveston County Amateur Radio Club, Alpha SAR, Montgomery County SAR, and TEXSAR.
Find TEXSAR photos of the Kemah Triathlon 2013 Deployment at our Facebook page.