Caldwell County Search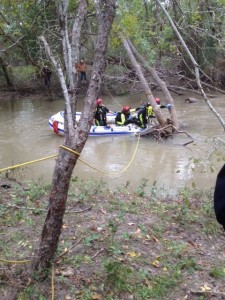 TEXSAR assisted as requested by Caldwell County OEM for a missing person search near Polonia Road on Tuesday November 12, 2013. The person had gone missing during the October 31, 2013 flood event. DPS divers recovered the vehicle on Monday November 11, 2013. Working with Alamo Area SAR and Chisholm Trail VFD, TEXSAR located and recovered the missing person just before noon. The technical water recovery took two hours to complete and all personnel on scene exhibited strong skills.
TEXSAR is appreciative of the continued support of the Texas Division of Emergency Management and all of our partners.