TEXSAR efforts cited in Request for Presidential Disaster Declaration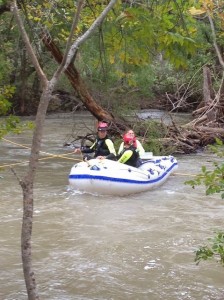 On December 12th, 2013, Texas Governor Rick Perry formally requested a Presidential disaster declaration for the State of Texas.  This request was made as a result of massive flooding which occurred from October 31st to November 16th, 2013.  A state disaster declaration was also made on December 12th.  TEXSAR  was specifically called out in the disaster declaration for its search and rescue, incident management, resource coordination, and provision of technical specialists during the Caldwell county search phase of the disaster.  One victim was located and extracted during this phase of the disaster.
Earlier, TEXSAR also participated in search operations in the Onion Creek area of the disaster zone, where the organization provided ground search, swiftwater search, and aerial search and recovery teams using TEXSAR's watercraft and helicopter assets.  Two victims were located and extracted during this phase of the search.
TEXSAR is an all-volunteer 501(c)3 non-profit which is proud to serve the citizens of the State of Texas.  If you have any questions, are interested in joining TEXSAR, or would like to make a donation to our life-saving efforts please contact us at membership@texsar.org.