Recon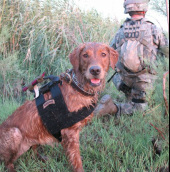 June's TEXSAR Member of the Month is no stranger to the world of Search & Rescue. TEXSAR K-9 Team Member "Recon" was born in November of 2005, and began training for cadaver recovery at the tender age of eight weeks! A fast learner, Recon was certified by the time she was one year old. Two months later Recon, and her handler Melissa Ellis, deployed to Iraq for nine months to help the United States Army search for soldiers listed as Missing In Action. After performing an outstanding job in Iraq, Recon was off to Jamaica – at the request of the Jamaican Government – to help locate the victims of a local warlord's violent, criminal activity. Over the span of her successful career Recon has been credited with numerous land and water recoveries, and has been annually certified by national law enforcement agencies since she was one year old.
More recently, Recon and Melissa have been on a number of TEXSAR deployments, in locations ranging from West Texas (Terlingua), to The Gulf Coast (Portland), Deep South Texas (Crystal City), and of course, Central Texas (Austin area).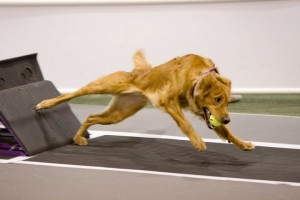 When she isn't hard at work assisting law enforcement or the military, Recon loves playing flyball, catching frisbees and playing "fetch". A happy dog with a very expressive tail and boundless energy, Recon seems to smile at everyone she meets – and what a smile! With her impressive and flashy "Grille", and a never-ending enthusiasm for making new friends she's won the hearts of every TEXSAR team member who has had the opportunity to work with her. There's absolutely no doubt that Recon is a valuable asset and an important addition to the TEXSAR team!
Most Recent Certification: 04/14: USPCA Cadaver Detection Certified.