Meet Harvey
Updated: 8/2021
How did Harvey get his name?
Harvey is a 55 pound black lab mix with a white blaze on his chest who was found as a stray in Houston during Hurricane Harvey. Shelters were overrun with homeless animals after the hurricane and many efforts were made to reunite pets with their owners. Harvey floated from shelter to shelter, but was unable to find his owner. He was eventually adopted by Service Dogs, Inc. in Dripping Springs who thought he might be a good candidate to be trained as a service dog for the hearing impaired. They named him Harvey because of his journey.
How did TEXSAR hear about Harvey?
A few months into his initial training, it was decided that Harvey's intense ball drive made him a poor candidate for service work . Service Dogs, Inc posted Harvey's availability for adoption on a Facebook page dedicated to rehoming working dogs. "For search dogs, there is no such thing as too much ball drive". Jennifer Blanton, our HRD (Human Remains Detection) K9 Supervisor saw the posting and asked some of the Austin K9 team members to check him out. It was immediately obvious that he would make an excellent search dog as he will do ANYTHING to earn a toss of his ball.
How old is Harvey?
Five going on six.
What is Harvey like at home?
He is the best of dogs … he is the worst of dogs. He steals any food he can reach. He is very energetic and wants to play ALL THE TIME. He'll pick up anything he thinks looks like a toy, drop it in my lap and then stare at me and nudge me until I throw it. Throwing it only encourages him to do it again. Not throwing it means I continue to get nudged. He can be exhausting. But he learns very quickly what he needs to do to get his ball reward and is happy to do whatever it takes. He is VERY sweet and affectionate – he thinks he's a lap dog and should share my pillow at night. I love him!
What are his SAR capabilities?
Harvey is trained to search for human remains. This is useful when searching for someone we think may be deceased, or when the police receive a tip about a murder victim's location. We started his training by setting up a number of identical containers and put human tissue in one of them. He learned very quickly that he got the ball if he went to the correct container. Next we taught him that he had to bark while looking at the container to get the ball. Finally, we taught him to search an area until he found the correct scent, then stare at it and bark to get the ball. Harvey loves playing this game and gets very excited when he knows he's going on a search. He has learned to search for remains that are on the ground, elevated (in a tree, for example), and buried, and has started working on detecting remains in water.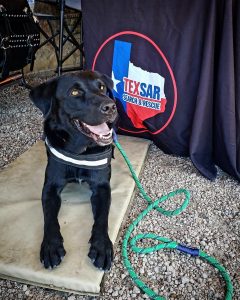 What's his favorite toy?
While any ball will do in a pinch, the Chuck-it Squeeky ball is his very favorite.
If Harvey could talk, what would be his philosophy on life?
MUST …. HAVE …. BALL! And if I can't have it, let me sit in your lap and lick your face.
Maintaining SAR K9 assets can be quite costly. Thank you to our dedicated handlers for investing their resources and love into these amazing animals. If you would like to support our K9 team please make a donation in their honor here: https://www.texsar.org/donate