A Fearless Leader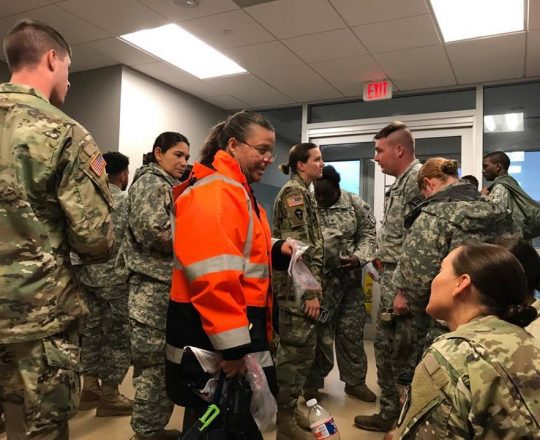 At the request of Galveston County, Texas Search and Rescue (TEXSAR) pre-staged assets at the Kemah Volunteer Fire Department in anticipation of significant flooding from Hurricane Harvey. On the night of August 26, TEXSAR team leader, Dawn Keller, lead her water rescue team to rescue an 87-year-old blind man who was in a home that was rapidly flooding. The team of seven secured the gentleman in their high clearance vehicle and tried to make it to safety; they became stranded at the H-E-B fuel pumps in League City and were unable to continue. As the flood waters continued to rise and the winds of Harvey howled, Dawn was given the news that an additional 15 inches of rain was due in the next few hours. No resources were available as all roads were impassable and the winds were too strong for air assets. No rescue would be coming. Dawn's team donned their personal flotation devices, secured their boat and locked themselves and the older gentleman into their vehicles to ride out the storm. They held onto their car window hammers as the waters rose and listened to the blind man's stories of his days as a Coast Guard Rescue Swimmer.
When morning light illuminated the parking lot, it looked like the waters were filled with bodies. It took Dawn's team a few minutes to realize that what they saw were really the neighbors, in their bedclothes, swimming in from the adjacent subdivision. Desperate citizens saw the generated lights at the H-E-B fuel station and came looking for help. Dawn called her TEXSAR CEO, Justen Noakes, who is Director of Emergency Preparedness for H-E-B to ask for aid*; Mr. Noakes had the local H-E-B manager wade to the store and open it up for Dawn, her TEXSAR team, and the many soaked neighbors. Using the resources available at the H-E-B, including their pharmacy, Dawn organized a refuge of last resort. When assets were finally available, Dawn was sent high water vehicles from the 712th National Guard Unit from Ellington field. Under Dawn's direction, TEXSAR and the National Guard rescued, triaged, treated and transported nearly 500 people and pets in League City.
Dawn, a special operations paramedic, counts Harvey as her 31st hurricane/typhoon response. She is the TEXSAR West Texas Division Supervisor, who, in her day job, works out of offices in both Midland and Houston for OXY Petroleum. Upon completion of her mission in Galveston County, Dawn coordinated and lead a group of volunteers from TEXSAR, OXY, and IsraAid to support an American Legion Post shelter that was in dire straits in the City of Wharton. Along with medical and disaster response personnel, Dawn coordinated the delivery of diabetic and medical supplies for the stranded and isolated population of Wharton that had been impacted by Hurricane Harvey.
Because of Dawn Keller's leadership and experience, hundreds of Harvey victims became survivors. Thank you, Dawn, for your fearless leadership, courage, and strength.
Written by: Laura Norman, TEXSAR Member
"It was an amazing miracle to have that HEB above water and the staff working with us as our rescues continued. There were pythons In pillow cases, an African parrot, people on nasal cannulas with O2 tanks and gashes from broken windows, dozens of dogs and babies, a quiet private area for those undone emotionally to decompress —a wide array of shivering humans being physically tended and comforted as they were triaged on their barefooted arrival in night clothes. It was a crescendo of despair that was steadily matched by the greatest show of fierce compassion that could ever be seen. I was surrounded by greatness in every moment." – Dawn Keller, TEXSAR Member