TEXSAR Central and South Central Team Training
TEXSAR Central and South Central Team Training
October 24, 2020
Seguin, Texas
Texas Search and Rescue (TE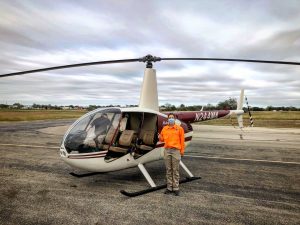 XSAR) hosted a COVID-19 cautious 9-hour training in Sequin, Texas this past weekend. More than 40 active members, new members and prospective members attended the hands-on simulated training in the difficult Texas terrain near Seguin, Texas.
All members were pre-screened for COVID-19 prior to attending and medical masks were worn for the duration of the event. This was the first time Texas Search and Rescue has conducted a large scale training event for both the Central Division and South Central Divisions. Jamine Doty, Central Division Team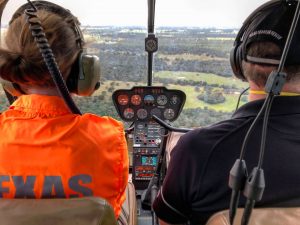 Lead commented, "It was great to get out into the field with both divisions. Teamwork, camaraderie, and training are imperative to TEXSAR's success.
TEXSAR serves all citizens of the State of Texas and deploys at the request of law enforcement, fire departments, and emergency management agencies. This training event allowed members to perform specialized tactical training including: Helicopter Air Operations, Ground Search & Rescue, Medical Support, K9 Search, Flood & Swiftwater and the newly founded Mounted Search and Rescue Team. "Training <Saturday> was fantastic for the horses," said Caryne Edwards and Ellen Humpert. "They did great with all the stimulation but we also learned some things that we know we need to work on. That's why it's called training!" This was TEXSAR's first training intermingling all the above mentioned disciplines.
Helicopter training is essential. These assets aren't used often, but it's importa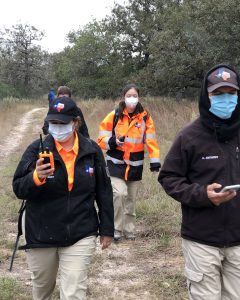 nt when they are, the team is well versed on all areas. From TEXSAR Helicopter Pilot Jeff Turk,
"Aviation operations proceeded smoothly. We were able to certify or recertify four helicopter-based scanners and more than a dozen landing zone officers. We were also able to acclimate or re-acclimate two horse teams and approximately half a dozen canine teams to helicopter operations." Included in Saturday's training – Spotter training. This is incredibly important as we are often tasked with searching large areas based upon the victim's last known point. TEXSAR spotters have been very successful locating victims in the dense South Texas brush.
TEXSAR was grateful for the opportunity to cover such a wide range of disciplines in one day. There was something for everyone and ultimately continues to prepare the team for future call-outs. It's been said many times since the beginning of the Pandemic. Disasters and emergency situations pay no mind to the pandemic, they are inevitable and we must remain ready and able to answer the call.
About Texas Search and Rescue:
TEXSAR is a 501(c)(3) nonprofit first responder organization headquartered in Austin, Texas. TEXSAR serves all citizens of the State of Texas and deploys at the request of law enforcement, fire departments, and emergency management agencies. TEXSAR provides specialized services such as ground search and rescue, flood and swiftwater technical rescue, K9 search-rescue-recovery, mounted search, disaster relief services, wildland fire, aerial search, UAV support, and dive team operations. (I cleaned this up so it reads better) TEXSAR is fully self-sufficient, including incident management team (IMT) capabilities, logistics and communications. TEXSAR's services are free to requesting agencies and are staffed by volunteers who are trained professionals in their fields.
TEXSAR is made up of multiple divisions across the State and deploys to all 254 counties in the State of Texas. TEXSAR has been a significant leader in emergency services and disaster response in the great state of Texas since 2004 and over the years has evolved into one of the largest non-paid search and rescue organizations in the State.
For more information or media inquiries please contact Shannon Smith, shannon.smith@texsar.org