TEXSAR Teams Up With Captain Hook Austin
Two Austin based organizations; Texas Search and Rescue (TEXSAR) and Captain Hook Austin have teamed up to support and serve the community in a greater capacity. Local non-profit, TEXSAR is widely known for their search and rescue efforts and widespread community involvement. You can count on this group of 400+ volunteers to be there for our State's crisis' and disasters and they do that with support of corporate and local sponsors and private donors. Local Dumpster company, Captain Ho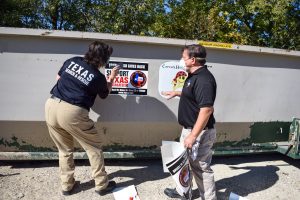 ok Austin has teamed up with TEXSAR and is contributing $5 to TEXSAR every time time they take a haul to the dump. With over 120 dumpsters in their fleet and a busy schedule they have already donated 0ver $3,000 dollars to TEXSAR.
In addition, Captain Hook Austin invited TEXSAR to place TEXSAR branded decals on every single dumpster to share the TEXSAR name and the partnership between TEXSAR and Captain Hook Austin.
Captain Hook Austin was also named TEXSAR's October, Supporter of the Quarter. TEXSAR honors supporters every quarter that give back to TEXSAR in a big way. These honorees are featured in TEXSAR Social Media, newsletters, and TEXSAR'S Annual Report. TEXSAR believes strongly in the statement: Texans Helping Texans, thank you Captain Hook Austin for contributing to this motto!
For all of your dumpster hauling needs, contact Captain Hook Austin, today!