TEXSAR Deploys to Louisiana for Hurricane Ida
Texas Non-Profit Responds to Hurricane Ida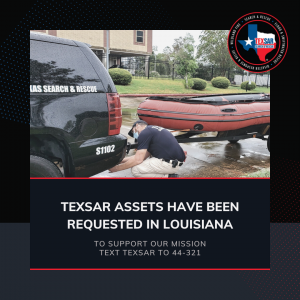 New Orleans, Louisiana – In response to the devastation caused by Hurricane Ida in South East Louisiana and Southern Mississippi. Texas Search and Rescue (TEXSAR) has deployed a team of 6 rescue boats, two high clearance vehicles, and 28 volunteers to aid in the aftermath and determine additional needs in the area. The volunteers in the group are trained in rescue boat operations and flood and swiftwater rescue, many of them were in the heart of Hurricane Harvey's aftermath fulfilling rescues and navigating the unknown. "Although TEXSAR's mission is Texas centered, when a disaster strikes this close to home, without a doubt we will make ourselves available and do what we can to help our neighbors." – TEXSAR President, Justin McInnis.
As the event unfolds we hope to know more, but for now we are praying for safety for those that have not yet been reached and for all the responders out there who drove into the storm to provide safety and hope during this dark time. "No matter how many storms and disasters we face, it's still unreal, it shakes you, and then you get to work." TEXSAR Member, Shawn Hohnstreiter.
TEXSAR encourages those affected to reach out to local emergency officials for immediate help. Local agencies are currently coordinating relief efforts through organizations like TEXSAR.
To support TEXSAR and their mission, donations can be made at www.texsar.org/give.
ABOUT TEXSAR:
TEXSAR is a 501(c)(3) nonprofit first responder organization headquartered in Austin, Texas. TEXSAR serves all citizens of the State of Texas and deploys at the request of law enforcement, fire departments, and emergency management agencies. TEXSAR provides specialized services such as ground search and rescue; flood and swiftwater rescue; K9 search, rescue, and recovery; disaster relief services; wildland fire; aerial search; UAV support; and dive team operations. TEXSAR is fully self-sufficient, including incident management team (IMT) capabilities, logistics and communications. TEXSAR's services are free to requesting agencies and are staffed by volunteers who are trained professionals in their fields. TEXSAR is one of the largest volunteer search and rescue organizations in Texas.
For more information, please visit www.texsar.org or contact Shannon Smith at 512-956-6727 or shannon.smith@texsar.org.