What is Search and Rescue (SAR)?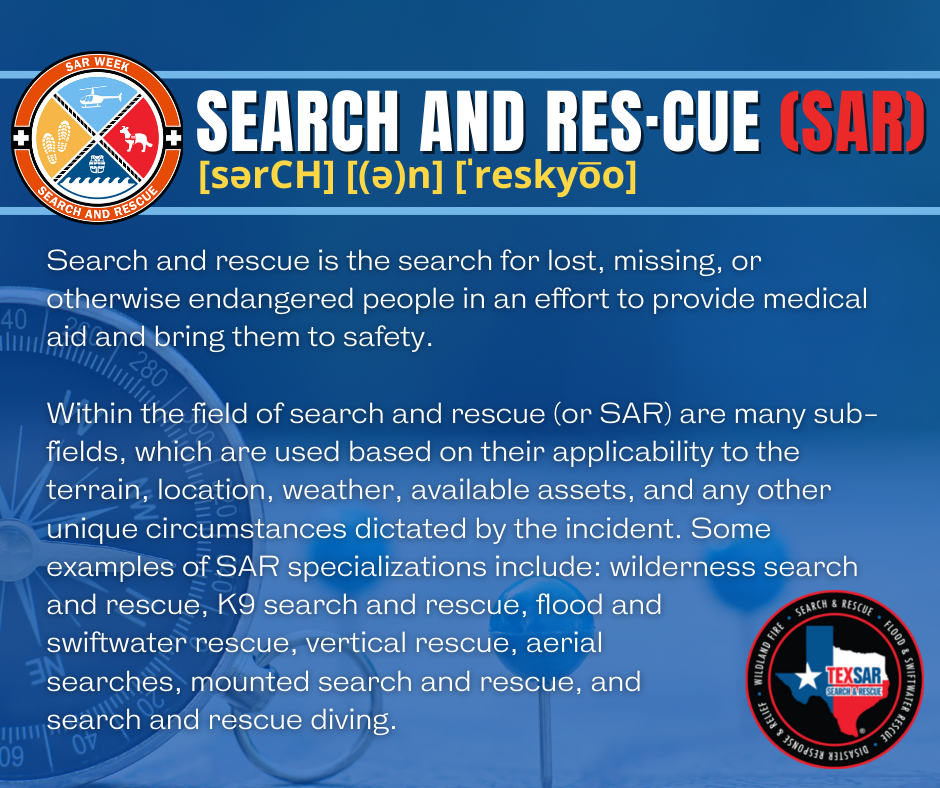 Search and rescue, or SAR, involves:
conducting a search in an effort to locate lost or missing people,

rendering aid to the victim, and

evacuating the victim to safety or recovering the body.
Search and rescue can take many forms, such as: ground search and rescue, K9 search and rescue, flood and swiftwater rescue, vertical rescue, aerial searches, mounted search and rescue, search and rescue diving, and many more. The type of SAR operation varies depending on the location, weather, available assets, and any unique circumstances dictated by the incident.
Aside from their search technician duties, many SAR team members possess other skills vital to search operations. These may include Incident Management Team (IMT) skills, which helps their team operate within FEMA's Incident Command System alongside other agencies. Command is responsible for coordinating the incident's operational activities, the team's internal communication, and the management of agency partnerships.
Medics play a vital role in search efforts as well! While nearly all search and rescue technicians have basic first aid skills, individuals certified in emergency medicine need to be on scene (or nearby) in the case that a victim is located and needs immediate medical attention. Medics may have a variety of certifications and/or licenses: Wilderness First Aid, Emergency Care Attendant (ECA), Emergency Medical Technician (EMT) of varying levels, Registered Nurse (RN), and Doctors of Medicine (MD).
Some SAR teams are part of an agency for whom search and rescue is not their primary focus, such as a local sheriff's office. While search and rescue may be part of an officer's job, they typically don't specialize in search and rescue and may lack the assets necessary to effectively conduct a search. These agencies may request the assistance of volunteer search and rescue teams to serve as a force multiplier when more resources are needed.
Other SAR teams operate under the authority of the federal and/or state government, such as Texas Task Force 1 and 2. Texas Task Force 1 and 2 are Urban Search and Rescue Teams organized under FEMA and at the state level.
Most SAR teams in the US are non-profit organizations primarily made up of trained volunteers with a focus on search and rescue. These organizations deploy at the request of other agencies. TEXSAR is an example of one of these organizations.
Search and rescue is a resource heavy discipline. Specialized vehicles and equipment need to be purchased and maintained (both costly activities), and the logistics associated with managing these assets can be complicated. The cost of training, personal gear and equipment, and transportation typically falls on each volunteer. Volunteers frequently take time away from their jobs and families to answer the call and deploy at the last minute. In order for SAR teams to function effectively, they must be able to meet the constant demand for the money, time, and labor necessary to do so.
The SAR organization typically covers all other expenses; however, this isn't always the case. While some volunteer search and rescue teams like TEXSAR never charge requesting agencies or victims, certain states or teams may elect to do so. Contrary to what some may believe, search and rescue is not a free public service!
The field of search and rescue is more than just rescuing lost hikers. It also involves seeking out missing children, locating individuals who have wandered off, and rescuing hurricane victims from flood waters. It's about bringing victims home safely or giving friends and families peace of mind in situations where the former is no longer possible. At its core, search and rescue is a culmination of dedicated public servants who set out to serve their communities by lending a hand in the toughest of times.