TEXSAR Receives 2022 Governor's Volunteer Award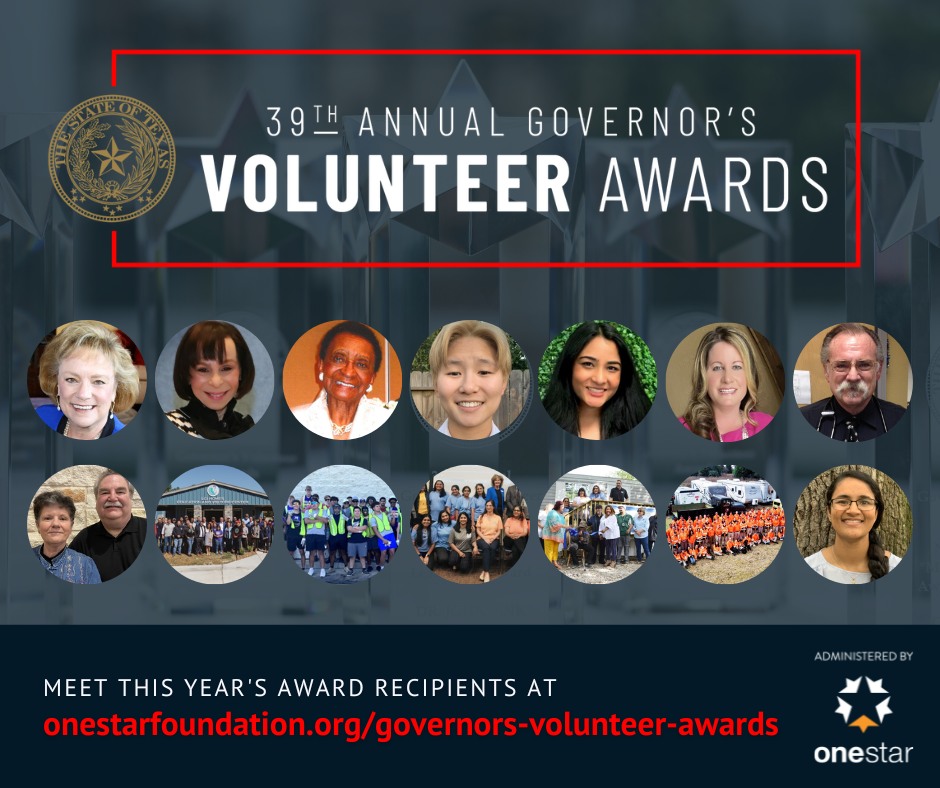 We are proud to officially announce TEXSAR has been recognized by the OneStar Foundation and the Office of the Governor of Texas with the 2022 Governor's Volunteer Award for Excellence in Disaster Volunteerism.
TEXSAR President and CEO, Justin McInnis, said, "TEXSAR prides itself on its mission of service above self. We are truly Texans helping Texans and we are humbled by this recognition." TEXSAR was founded in 2004 and has dedicated volunteers trained in multiple disciplines located across the entire state of Texas.
Texas First Lady Cecilia Abbott announced, in conjunction with the OneStar Foundation on Thursday, the recipients of the 39th Annual Governor's Volunteer Awards. Their statement includes, "I am thrilled to recognize the 14 outstanding awardees of this year's Governor's Volunteer Awards for their selfless dedication to Texans across the state," said Texas First Lady Cecilia Abbott. "The true strength of Texas is found in our people, and this year's award winners are a moving testament to the character of the Lone Star State."
"This year's award recipients reflect the strength and resilience inherent in the Texan spirit of service," said Chris Bugbee, OneStar President and CEO. "We are honored to shine a spotlight on these stellar examples of volunteer service with the hope that it will inspire even more generations of Texans to get involved and take action in their own community."
Andrew Tull, long-time supporter of TEXSAR and current Chairman of the Board, said, "We do not take this honor lightly. To achieve this level of recognition for being as young of an organization as we are, means a lot to everyone involved. We are inspired to do even more to fulfill our Mission of Texans Helping Texans."
An event to honor all the awardees will be held at the Governor's Mansion in April. The official release from OneStar and the Governor's Office can be found here.
TEXSAR dedicates this award to the hundreds of volunteers who have donned the orange TEXSAR uniform over the last 19 years. It is your compassion to help others, willingness to train, and grit to deploy at a moment's notice that makes TEXSAR great. Our sincerest thanks go out to all our donors, supporters, and partner agencies, who make our level of service possible.
We could not be who we are today with out everyone along the way, thank you.
About TEXSAR: Qualified, committed Texans volunteering to serve fellow Texans in times of disasters and tragedies…that's TEXSAR. Texas Search and Rescue (TEXSAR) is composed of volunteers who are dedicated Texans serving Texans with a spirit of "service above self" during times of emergency, loss, disaster, and pain. TEXSAR makes itself available as a resource to all 254 counties in the state when requested by local, state, or federal agencies. Entering the limelight during the Memorial Day Hill Country floods of 2015 when the organization was 12 years old, it has remained a highly visible and requested resource in search and rescue, including services such as K-9, tracking, aerial assets, fast water capabilities, all-terrain and high-water assets, and more. For example, in 2021, TEXSAR required the use of all TEXSAR resources in 100 deployments implemented by its dedicated volunteers operating out of four divisions: North Texas, Gulf Coast, South Central and Central Texas. More than 30,000 volunteer hours served Texans in 2022, with an estimated value just shy of $1 million. The true value of their benefit to first responders, agencies and families is priceless.
To help futher TEXSAR's mission you can donate here, to make an impact in your community: www.texsar.org/donate