TEXSAR Hosts Man Tracking Classes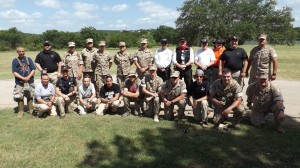 TEXSAR is proud to announce that twelve of our members recently completed Basic, Intermediate, and Advanced SAR Tracking classes taught by world-renowned tracker and trainer Fernando Moreira of Professional Trackers.  These courses, subsidized and scheduled by TEXSAR and TMAR, included close to 40 participants from TEXSAR, Austin Police SAR, Travis County Search & Rescue, and TMAR.  The 9 days of training consisted of classroom and field work designed to teach the fundamental skills of tracking including:
General tracker awareness – use of all senses
Tracking terminology and team roles
Identifying types of sign
Guidelines for recording tracking hours in a log book
Measuring and documenting the track
Tracking on various terrains and ground covers
Backtracking for clues
Day tracking
Night tracking
TEXSAR would like to thank Fernando for bringing these courses to Austin and sharing his amazing expertise with our team!