Galveston County Operation Safe and Sound
From July 3rd to July 7th, TEXSAR and TMAR deployed to Galveston County to assist with Operation Safe and Sound from for the holiday weekend. Personnel from both groups were integrated into the operation in support roles as force multipliers for emergency responders in Jamaica Beach, San Luis Pass, and Crystal Beach as well as working in positions with the Galveston County Office of Emergency Management and the Sheriff's Office.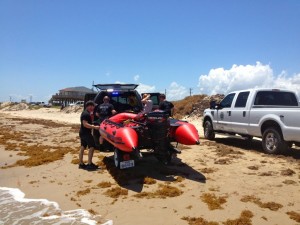 In addition to assuming roles within the Incident Management Team for the operation, over five days TEXSAR and TMAR members worked with multiple departments throughout the county to battle brush fires, coordinate and perform searches for missing children, work bay and beach patrol, respond to EMS and law enforcement calls, respond to threatening weather events, and conduct Search and Rescue operations offshore. At one point, personnel from both teams were requested to respond to another incident within the county but outside of the operation. The teams met up with members from Alpha SAR (a K-9 team and TEXSAR partner out of Houston) to assist with a search in Texas City.
Operation Safe and Sound was an extremely productive deployment, and the teams had the opportunity to work with incredible first responders and emergency management personnel throughout the county. Thank you to all of our friends and partners in Galveston County for your support and hospitality.
Media Links: