CITGO Supports TEXSAR With a New Vehicle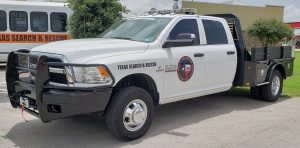 Supporting TEXSAR's efforts to proactively and consistently respond to statewide calls for support, CITGO recently donated funds to outfit a new dually flatbed truck that will be used to transport and stage critical staff and equipment to support vital missions. Additionally, the funds will provide TEXSAR with multiple trailers, an ATV and additional supplies necessary for training and deployment.
"We are humbled by this significant contribution and are proud to welcome CITGO into the TEXSAR family. Donations from supporters like CITGO help Texans find safety, survive and rebuild. Whether TEXSAR responds to an event caused by a catastrophic hurricane or floods like those in Wimberley, rescues a lost Alzheimer's patient, or locates a child who has wandered from home, every donation helps save and restore precious lives. TEXSAR's all-volunteer professionals put themselves in harm's way to unite families and keep others safe." – Paula DeLaCruz, TEXSAR Executive Director
About TEXSAR
TEXSAR: Texas Search and Rescue is a 501(c)(3) nonprofit first responder organization headquartered in Austin, Texas. TEXSAR serves all citizens of the State of Texas and deploys at the request of law enforcement, fire departments, and emergency management agencies. TEXSAR provides specialized services such as ground search and rescue; flood and swiftwater rescue; K9 search, rescue, and recovery; disaster relief services; wildland fire; aerial search; UAV support; and dive team operations. TEXSAR is fully self-sufficient, including incident management team (IMT) capabilities, logistics and communications. TEXSAR's services are free to requesting agencies and are staffed by volunteers who are trained professionals in their fields. TEXSAR is made up of multiple divisions across the State and deploys to all 254 counties in the State of Texas. TEXSAR has been a significant leader in emergency services and disaster response in the great state of Texas since 2004 and over the years has evolved into one of the largest non-paid search and rescue organizations in the Country.
About CITGO
Headquartered in Houston, Texas, CITGO Petroleum Corporation is a recognized leader in the refining industry with a well-known brand. CITGO operates three refineries located in Corpus Christi, Texas; Lake Charles, La.; and Lemont, Ill., and wholly and/or jointly owns 45 terminals, nine pipelines and three lubricants blending and packaging plants. With approximately 3,500 employees and a combined crude capacity of approximately 749,000 barrels-per-day (bpd), CITGO is ranked as the fifth-largest and one of the most complex independent refiners in the United States. CITGO transports and markets transportation fuels, lubricants, petrochemicals and other industrial products and supplies a network of approximately 4,900 locally owned and operated branded retail outlets in 30 states and the District of Columbia. CITGO Petroleum Corporation is owned by CITGO Holding, Inc. For more information, visit www.CITGO.com.